#FABDad – A Guide to Getting Better at Flesh and Blood Quickly!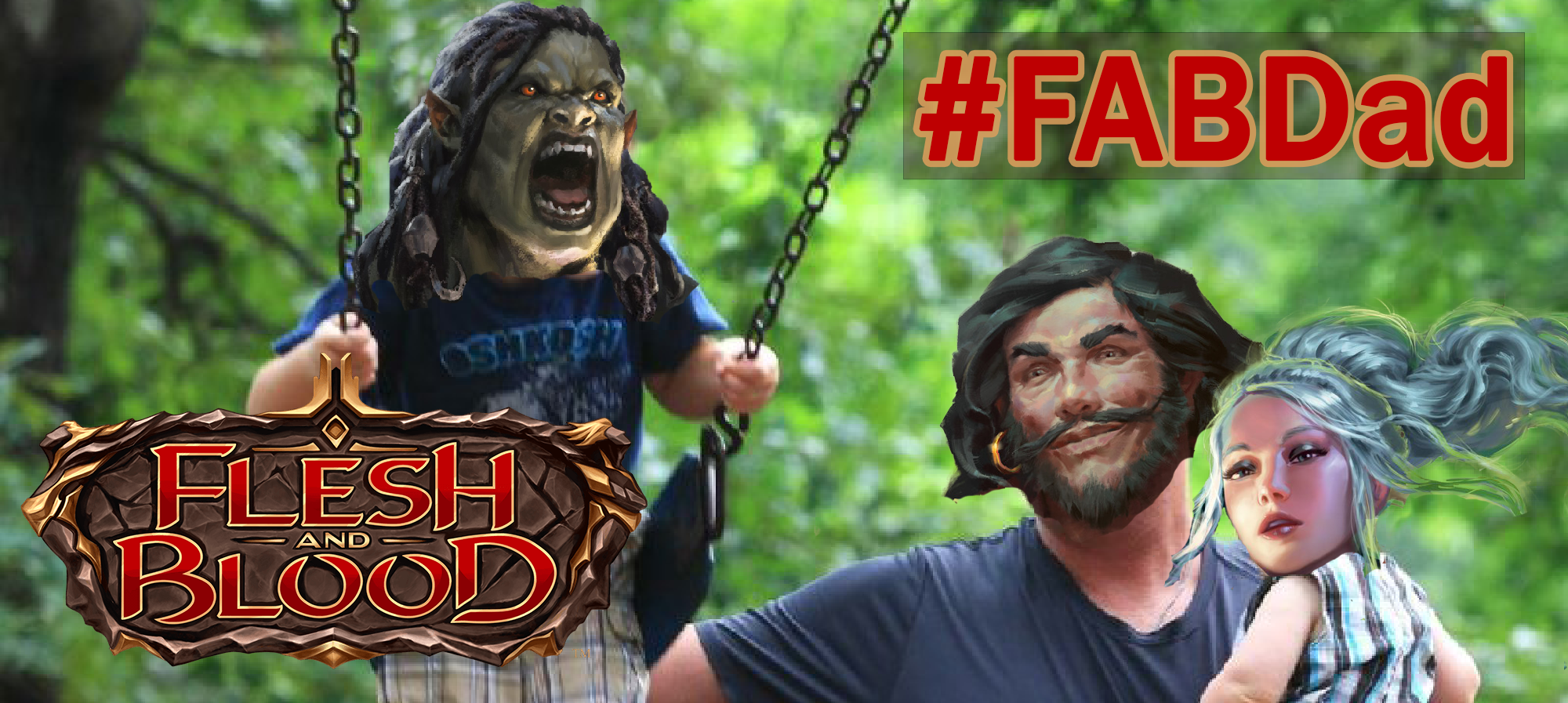 Welcome! Let's Talk About How to #FABDad!
My name is Donnie! I'm a 36-year-old #FABDad who started playing trading card games before I started puberty, waaay back when Pokémon was the newest sensation on the playground. As I got older, I switched to Yu-gi-oh after watching the anime back when it first debuted here in the US, and then eventually found my way to Magic the Gathering, a passion for which kept me and my little brother close as we grew up.
I found Flesh and Blood in December of '22, after hearing rumblings about a world championship finishing up and a thriving competitive scene, which my brother and I were looking for as Magic just wasn't hitting the same for us as it had in years past. After buying two pre-constructed Blitz decks so we could learn the game together and after attending our first tiny Armory, we sold out of Magic completely to reinvest everything into FAB. Since then, I've been recklessly consuming every bit of FAB based media I can get my grubby hands on in an attempt to level up my game and do well on the tournament scene. So far, that's meant finishing with a positive win record at my second PQ, finishing with a positive record at my first pre-release, winning a couple of Armories, breaking even on wins/losses at BH Charlotte on Fai, Rising Rebellion, and barely missing day two at the calling in Baltimore with a 5-3 record playing Katsu, the Wanderer. (Impressive resume, I know, I know….)
Ok, So That's Who I Am, But Why Are You Here?
Well, the reason you're here right now is probably because you're like me and stay busy all the time due to real-life commitments that require real, actual, responsible adulting, and that often gets in the way of your passion for all things Flesh and Blood. Life is crazy and this game is tough to master, often requiring dozens into hundreds of games on a hero to truly understand every nuance of what they want to do in a match. That's a daunting realization for someone who might only have time for one Armory a week if they're lucky. So the question I'm hoping to explore, and, at best, help answer for us both over the course of this series is this:
How does one get better at Flesh and Blood while maintaining real-life responsibilities?
What we're going to discuss here are topics that I'm not prepared to claim mastery over yet myself. Honestly, I'm just an enthusiastic nerd who happens to be a good employee, a happily married husband of 15-ish years, and a doting father of two beautiful pre-teens, that wants to talk about some of the things I've done over my gaming life to ensure I have personal time to spend on my collectible hobbies, and how I've been working on my own FAB journey. Things like how to explain the hobby to a non-gamer spouse, understanding and setting FAB goals, feeling like part of the community, etc.
Today though, we'll cover just one of the things I've done to try to make myself better at FAB quickly:
Consume Content at Every Opportunity!
Flesh and Blood content seems to be growing by leaps and bounds lately as more and more players come to the game and see an opportunity to grow a media space for themselves as the game grows around them. There are dozens of podcasts and YouTube channels that are dedicated entirely to FAB and it seems like all of the creators are genuinely passionate about both helping the community grow and the individuals grow within the community. This is a lucky break for me, since I've found myself in a position with my employer that allows me to wear earbuds to listen to media while I'm doing my physical tasks in order to help keep my mind occupied.
Pods Vs Videos?
Podcasts are especially awesome while moving around since there's no fees involved in listening, unless you happen to have a premium account for your listening service of choice. I've followed the M-n-R Cast with Michael Hamilton and Roger Bodee, for example, since December when I was told about it at my first Armory. If you're brand new to FAB and don't recognize the names, Michael Hamilton is both the reigning US National Champion and the current reigning World Champion for Flesh and Blood. He and his best friend Roger do their weekly podcast and discuss all manner of things related to FAB. Roger pokes fun at Michael a lot and it's always both entertaining and thought provoking, so I highly recommend their content.
Arsenal Pass and 983 Media's Instant Speed Podcast are also fantastic and easy to listen to while I'm moving around at work or playing over the Bluetooth connection in my car on my daily commute. Matt Di Marco, aka "Flake," of Instant Speed is hilarious, and when I met him at the Battle Hardened in Charlotte, NC he was extremely humble and very down to earth. His podcast focuses a lot on interviews with FAB celebrities like Brodie Spurlock, Michael Hamilton, Daniel Rutkowski, and others where he brings them in to discuss recent tournament experiences, how they prepped, and other elements of playing FAB at a high level. Hayden Dale and Brendan Patrick of Arsenal Pass do roughly the same, but most of their casts seem to be them discussing the game between the themselves and occasionally inviting other high-level players on to chat.
Videos for Me!
Pods are, indeed, a wonderful font of brain fuel, but I've found YouTube to be an even more incredible resource from my first moments of wondering, "What in the world is this game all about??" I first learned how to play the game by watching The Professor of Tolarian Community College's "How To Play Flesh And Blood (TCG) Learn To Play In Less Than 15 minutes!" video before I ever walked into a hobby shop for an Armory. Dice Commando's video, "Top 5 Heroes to Start Out & Grow With – into 2023," helped guide me towards building my first Classic Constructed hero. Recently, ManSant has been the go-to source for live event coverage and the quality of his streams just keeps getting better the more he does it. I've loved how knowledgeable he and his fellow commentators have been while streaming and how easy it's been to follow along with the high-level plays thanks to his team.
I'm especially blessed in my local community to have several of The Card Guyz as local players that have been helping me both in person and with their awesome videos covering meta game breakdowns, tier charts, and detailed evaluations of the tournament scene. Nathan Crawford of The Card Guyz has been steadily streaming every Wednesday night and the way he talks through his lines while playing makes him very easy to listen to, even if I'm not able to sit and focus on the video feed.
TCG TALK put out a video that can be found here, with a link that lists dozens and dozens of other creators from a plethora of sources, making it a one-stop shop to find any type of content for our favorite TCG. He even breaks down the most frequent style of content for each creator and has them organized into categories!
These are just a few of the creators I follow regularly.
I know listening to other people talk about the game or watching other people play is not a perfect substitute for getting actual reps in with your favorite hero at the local shop, but when you're wanting to get better at Flesh and Blood quickly, every moment of effort counts!
Farewell for Now!
Thank you so much for checking out my first effort at creating something for this amazing community! I'm really excited about having an opportunity to talk about the best TCG I've ever played in a broader way and I'd love to hear your thoughts on what you're doing to surround yourself with content, or if you usually only do FAB related things on Armory/Event days. I can be found on Discord or Twitter pretty easily as DracoHominis87, (although I'm not currently very active on Twitter,) so feel free to message me for a chat!
(PSA- Seriously, please don't text and drive. It's dangerous. Don't search for music/content and drive. Don't try to do anything else and drive. Just drive while driving and focus on not getting yourself or anyone else hurt. End PSA.)